We will beat any like for like written quotation
+FREE upgrades*

More than 50,000 successful double glazing installations since 1979.

Unique 10-year unconditional, fully transferable guarantee.

Greater Melbourne's only double glazing installer with registered building certification. DB-L 45684.

Quality window and door installation by Ecostar double glazing employees (no sub-contractors).
What is double glazing?
Double glazed windows are those that use two panes of glass, rather than one. The two panes are positioned with a void in between that is filled with a layer of insulating Argon gas. The gap in between the panes varies; here at Ecostar, we install a 20mm gap, which delivers superior thermal and noise reduction qualities compared to others on the market.
How does double glazing work?
Glass is a great conductor of heat, meaning traditional single pane windows let a lot of heat into and out of your home. When Argon gas is used between the two panes of glass, it reduces heat and cold transfer. At Ecostar, we combine double glazed glass with uPVC window frames; these frames don't conduct heat and cold like aluminium and timber, thereby complementing the energy efficiency of double glazing. Combined with insulated pads behind the architraves, our double glazed window units are a complete solution and unlike anything else on the market.
So what does double glazing actually do?
Double glazing does two main things: it increases the energy efficiency of your home, and it also reduces the effect of outside noise.
During winter, double glazed windows keep the heat in; in summer, they keep the heat out. For homeowners, this means you can turn down the heater in winter and reduce your use of air conditioning in summer… saving you money on your electricity and gas bills! Improving the energy efficiency of your home also prolongs the lifespan of heating and cooling appliances, as they don't need to work as hard.
The additional pane of glass and the void in between also acts as an additional noise barrier, reducing the transfer of sound far better than a single pane of glass. Perfect for buildings in noisy areas!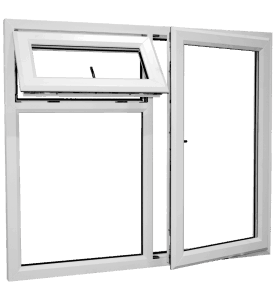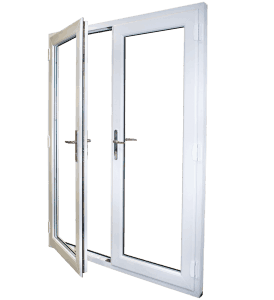 What are uPVC windows?
Commonly referred to as vinyl windows, uPVC windows are an 'unplasticised' form of PVC. Although relatively new to Australian shores, these sturdy window and door frames have long been popular in Europe and America – and for good reason. There is also extensive research completed by the CSIRO, which determined the lifespan to be 70 years with no clear ending as yet.
uPVC window and door frames complement the energy efficiency and noise reduction properties of our double glazed glass window panes. They feature similar thermal properties to timber, and don't contract or expand like aluminium – helping to maintain the desired temperature of your home whilst also reducing the effect of outside noise.
uPVC windows are incredibly durable and can withstand temperature extremes – from Melbourne's freezing winters to burning summers – without corroding, peeling, chipping or flaking like timber windows. In short, this means that Ecostar windows are low maintenance; no need to re-paint those weathered timber windows every couple of years! Furthermore, Ecostar is the only company using uPVC frames that are certified UV stabilised.
Why choose Ecostar uPVC double glazed windows and doors?
Ecostar uPVC double glazed windows and doors are an energy-efficient, sustainable solution to Australia's harsh climate – in particular Melbourne's hot summers and cold winters.
The combination of double glazing and uPVC frames mean Ecostar's windows and doors are the ultimate package for those looking to reduce their energy bills and help out the environment along the way. We all know Melbourne is busier than ever before – whether it's traffic noise, the local train line or a busy apartment block next door, you'll appreciate the fact that Ecostar double glazed windows and doors eliminate outside noise by up to 90%.
Of course, if you've read double glazed window reviews you'll be aware that not all double glazing specialists use the same quality of product. Ecostar windows and doors exceed Australian Window Energy Rating Scheme standards, and are UK police-preferred 'Secured by Design' quality accredited to keep your home safe and secure. You can also rest assured that Ecostar windows are fitted by experts; we don't sub-contract. Our company-employed window and door installation team are fully trained, professional and efficient.
How much does double glazing cost?
The cost of installing double glazed windows varies greatly, which is why it's best to take up Ecostar's free in-home quote. There are many variables to take into consideration, such as the number and size of the windows, the type of glass (we have 10 different specifications available), structural alterations required, whether the current frames are load-bearing, and your location among other things. Get in touch with our friendly team today for a quote!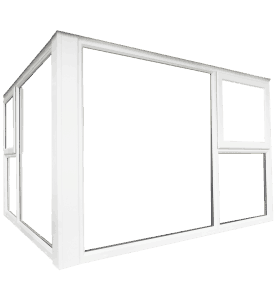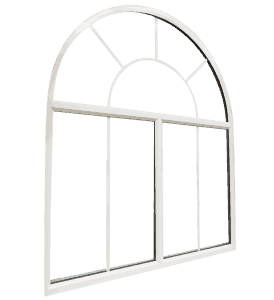 Awards
The Ecostar Group sets Industry Record with its 9th Award in a row
Customer Name: Stephanie & Daniel Dong

Ringwood North, Melbourne

Stephanie and Daniel Dong's large Ringwood North home is stunning, but the property's existing timber, single glazed window frames were rotting and very draughty, reducing the thermal efficiency of their home. Permanently cold in winter and unbearably hot in summer The Dongs engaged Ecostar to install double glazed windows and double glazed doors and enjoyed an instant reduction in their energy bills, and an instant improvement in the temperature within their home, whatever the weather. "We would recommend Ecostar to anyone," said Stephanie.

Customer Name: Nick Patterson

Toorak, Melbourne

Nick Patterson had done his research and knew he wanted to install uPVC double glazed windows to improve the kerb appeal of his multi-million dollar Toorak home, to improve his property's thermal efficiency, improve ventilation and reduce noise from the adjacent main road. We were delighted to receive a glowing customer survey response from Mr Patterson after the successful installation of his uPVC windows, and his on-going recommendation to family and friends.

Customer Name: Angelina and Tim

Box Hill North, Melbourne


Situated just 40 meters from Melbourne's busy Eastern Freeway, Angelina and Tim's home was cold in winter, hot in summer, and traffic noise was seriously impacting their quality of life. We replaced the couple's single-glazed windows with uPVC double glazed awning windows and they've seen a 38 per cent decrease in their gas bill as a result of their home's improved energy efficiency.

Customer Name: Alan and Jan Hume

South Yarra, Melbourne

South Yarra penthouse dwellers Alan and Jan Hume turned to Ecostar in the face of rising energy costs, mounting window and door maintenance and intrusive traffic noise. Their new Ecostar uPVC double glazed windows and doors saved them approximately 50 per cent on their energy bills.
Accreditations
Ecostar holds all major Australian and European quality accreditations including Victorian Building Authority Registered Building Practioner, Australian Window Association, British Standard Institute, Secured by Design and Hot Country Profile.