One of many benefits about double glazing: Soundproof windows and doors
Noisy Neighbours keeping you awake? Reduce outside noise by up to 90%
Achieve noise reduction in your home with double glazing! It's no secret Melbourne is becoming busier, and with more people comes more noise! Whether it's traffic on the roads, trains, the local late night hang-out or the neighbour's barking dog, we can all benefit from a quieter home!
How can I reduce noise from outside windows?
Windows and glazed doors are the main sources of noise disturbance in Melbourne homes. Ambient noise and traffic noise travels through glazing into the home in a number of ways, including the glass conducting vibrations from outside the home, causing increased internal noise disturbance, and also poorly sealed window frames and joints enabling unwanted noise to travel into the home. This noise can also come around the window if no noise treatment is fitted during the installation of the window.
The question many homeowners ask themselves is, "How can I make my windows soundproof?" The good news is that noise reduction glasses can make a real difference to your home. But, only when they are manufactured with a multiple point locking seal, and sound insulated foam is installed between the window and wall.
How much do double glazed windows actually reduce noise?
People commonly refer to windows and doors with double glazing thickness as "hush glass", and for good reason – they can reduce noise by up to 90%! Their noise reduction properties are aided by the uPVC frames, which dampen noise vibrations through the window unit. These frames are far superior to wood and aluminium, which simply don't seal properly. In fact, metal propagates noise quicker than any other material!
Simple but effective, Ecostar's uPVC double glazed soundproof windows and doors create a sound barrier that will reduce noise levels and improve your home's acoustic qualities. Noise reduction windows cost is well worth it when you consider how much time you spend in your own home – a good night's sleep is priceless! Of course, double glazed windows also improve the energy efficiency of your home, so in the long run, there are also cost savings in terms of your energy bill.
Soundproof Double Glazed Window Types
So what's the best glass for noise reduction?
The most effective soundproof glass windows are ones that are double glazed; that is, they consist of two panes of glass with a 20mm void in between. Ecostar combines double glazing with well-fitting uPVC frames and insulating pads behind the architraves, delivering the best glass to stop noise.
Of course, not all double glazed windows reduce noise at the same rate. The thickness of the glass, the gap in between the panes and how well the windows are fitted all contribute to their efficiency.
Besides offering high quality double glazed windows for noise reduction, Ecostar provides the option of using noise proof laminated glass. Laminated glass is essentially two panes of glass with a thin layer of vinyl sandwiched in between. Often used as security glass since it's shatterproof, laminated glass adds an additional level of noise reduction. When paired with double glazing, it's a sure-fire to reduce outside noise disturbances!
The soundproof glazing experts
Double glazing and noise reduction go hand in hand; say goodbye to invasive ambient noise and intrusive traffic disturbances, and improve your quality of life and the value of your home, with noise reduction courtesy of Ecostar uPVC double glazed windows and doors.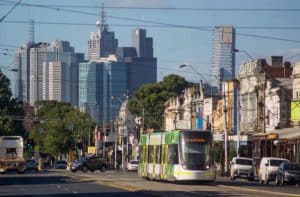 If you're tired of noise coming through your windows, you can achieve noise reduction with double glazing. At Ecostar we provide soundproofing and insulation solutions across Greater Melbourne.
So, if you've been wondering how to stop noisy neighbours and other sound-related disturbances around your home, call our experienced sales team on 1300 928 194 or visit our mobile showroom to find out more about how Ecostar uPVC double glazing can reduce noise in your home.